Artist/Educator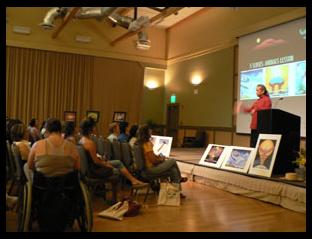 I have a Bachelor of Arts – Art All Levels from the University of Texas at El Paso that includes a Texas Teaching Certificate.  In my 25 years of art education experience, I have presented to all age levels, from children in kindergarten to education professionals.
As an artist, I incorporate Mesoamerican symbolism with Mexican-American historical experience.  My purpose is to inform through a unique artistic beauty.  Ancient messages are woven with a modern context for a unique visual experience.
My presentations guide audiences towards an understanding of how the ancients maintained a lifestyle in balance with Nature.  Mesoamericans used art to convey historical events, scientific data, cosmological events, and a philosophic perspective about human relations with Creation.
The presentation compliments all academic subjects: art, math, science, culture, language and history.  The term: "Visual Literacy" describes my art: an experience through art, history and culture.
There are several techniques I use to accomplish this, depending on the grade level:
How to draw with geometric shapes: With these shapes we can draw anything and learn to write with them.
Draw your own animal: Draw five animals – eagle, deer jaguar, serpent, and rabbit.  Each animal relates to a human sense – eagle=sight, deer=smell, jaguar=sound, serpent=touch, rabbit=taste.  This establishes a relation with nature.  After the learner gets familiar with the parts of each animal, they are to draw their own animal by using a part of each animal.  This lesson stimulates creativity and they draw their own unique animal.
"Tonal Achtli, Semilla del Sol, Seed of the Sun": This lecture includes a 29-minute video of my paintings that takes the viewer through a Mesoamerican visual literacy experience with the art, history and culture.  The second part of the hour is open for Q/A and further discussion of the video.
Tile Mural Workshop: This workshop introduces to the learner how an 8"x10" image can be painted as an 8×10 foot mural. This encourages group participation: each learner paints one small part of the mural which then completes the mural.
The presentations are available for classroom and/or auditoriums.
For more information and fees, contact me at:
Gabriel@gaytanartworks.com or call 915-857-5292.